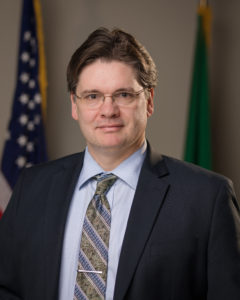 Jamie serves as a communications specialist for the House Democratic Caucus (HDC) at the Washington State Legislature. He handles communications for several members of the HDC and also handles issue specific communication for assigned committees. He has managed communications on issues ranging from minimum wage to voting rights.
Jamie received a bachelor's degree in history from the University of Washington in 2006 and a master's in communications & leadership from Gonzaga University in 2013.
Jamie moved to Fircrest in 2005. He lives with his wife (Kathryn), two kids (Jack & Ella), and their sheepdog (Ruby) in the Commons at Fircrest.
In his spare time, Jamie enjoys playing guitar, watching sports, and engaging in good natured political debate.
He is serving his first term having been elected in 2017.