Get to know our Police Officers
The City of Fircrest is proud of our Police Force. We believe that developing relationships with our community members build trust, respect, and safer communities. Community Policing is at the heart of our organization and is emphasized at every level.
Over the next few months, we will be introducing you to the Fircrest Police Department Officers.
Officer Jeff Johnson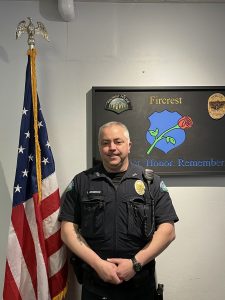 Hello, my name is Jeff Johnson and I am a Patrol Officer for the Fircrest Police Department. I started here in February of 2020. I had previously worked for Fircrest PD from 2002 to 2004 before transitioning to the Lakewood Police Department. I am happy to be back serving the great citizens of Fircrest.
A little about me, I was born and raised in North Tacoma and I currently live in Gig Harbor. I have two sons (18 and 15) that I love spending time with. I enjoy outdoor activities such as camping, fishing, and hunting. I also enjoy going to the gym and rooting for the Seahawks.
Please don't hesitate to flag me down if you see me on patrol, as I look forward to meeting you all!
If you happen to see Officer Johnson please introduce yourself and say, "hi"!