Officer Jeff Johnson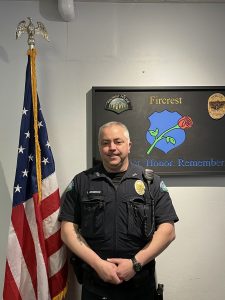 Hello, my name is Jeff Johnson and I am a Patrol Officer for the Fircrest Police Department. I started here in February of 2020. I had previously worked for Fircrest PD from 2002 to 2004 before transitioning to the Lakewood Police Department. I am happy to be back serving the great citizens of Fircrest.
A little about me, I was born and raised in North Tacoma and I currently live in Gig Harbor. I have two sons (18 and 15) that I love spending time with. I enjoy outdoor activities such as camping, fishing, and hunting. I also enjoy going to the gym and rooting for the Seahawks.
Please don't hesitate to flag me down if you see me on patrol, as I look forward to meeting you all!
If you happen to see Officer Johnson please introduce yourself and say, "hi"!