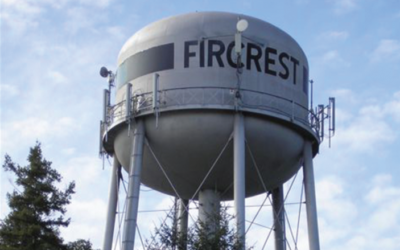 Water Quality / Treatment
The City of Fircrest water is fluorinated and chlorinated.
Each June we provide our Annual Water Quality Report to residents of the city

 Meter Readings
The meter reader reads the meters every even month (Feb, April, June, Aug, Oct & Dec) during the first 8 business days.
Water Consumption High?
Capital Project(s)
Water Main Replacement on Ramsdell
Water main improvements are planned along Ramsdell from Contra Costa to Forrest Park Drive.  This project has been designed.  The project will be bid the first of next year so that better bids should be received and construction will be early spring of next year.  This project is being funded with the City's water capital improvement funds.
Do I need a Permit?
Installing a Backflow Device?
You will need a BACKFLOW PERMIT.
Please NOTE:
You will need to purchase your backflow device before applying as you will need the make and serial number of the device to complete the permit application.
Every Backflow Assembly MUST be tested ANNUALLY by a Certified Backflow Assembly Tester with a copy of the annual test to be filed with the City of Fircrest each year.