Fircrest GRAD Celebration
May 30, 2020 @ 10:00 am

-

11:30 am

|

Free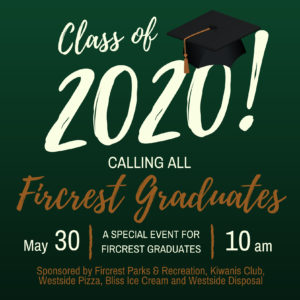 Fircrest Senior Class of 2020! We want to celebrate you!
The FIRCREST GRAD CELEBRATION will happen on Saturday, May 30th at 10 am in Fircrest. Reserve your spot now by following the registration link below. REGISTRATION IS REQUIRED by no later than Thursday, May 21st. https://form.jotform.com/FircrestParksandRecreation/GradDayCelebration
All Fircrest graduates (high school and over) are invited to join the event which will feature a car parade of GRADS, photo opps and some fun surprises. Be sure to wear your cap and gown (optional) and decorate your car if you'd like. We'll have a prize for the THREE (3) most creative cars in the parade. At the end of the parade we will be waiting to present you with a token of appreciation and a photographer will be ready to capture the moment. More details will follow after we receive your registration.
Application Deadline: Thursday, May 21, 2020
Please note: This event will follow all the guidelines to comply with the "Stay Home, Stay Healthy" Order.
1. Please maintain safe social distancing. This is a minimum of 6 feet from those that don't live in your household.
2. To participate in the parade, all car occupants must be with members of their own Family/Household.
https://www.tpchd.org/healthy-people/diseases/stay-home-stay-healthy
This event will follow within the state guidelines for proper social distancing.
Graduates must reside (hometown) in Fircrest to participate.
For more information or to volunteer, contact Judy at jschmidtke@cityoffircrest.net
A special thank you to all our wonderful sponsors that helped make this event extra special: Bliss Small Batch Creamery, Espresso Yourself, Westside Pizza, Fircrest Kiwanis, Fircrest Towing and Westside Disposal.