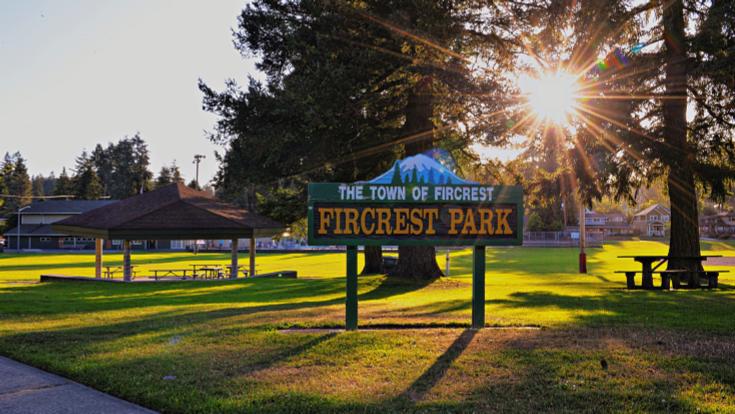 Parks & Recreation Mission
The Mission of the Department of Parks and Recreation is blending community needs and available resources to create and develop the highest quality recreational, athletic and social programs for the City of Fircrest.
Comprehensive Plan Ad Hoc Committee
Core Values:  People Respect Involvement Development Excellence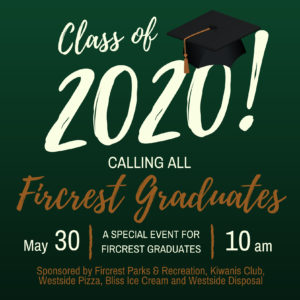 Follow this link for more information: https://www.cityoffircrest.net/event/fircrest-grad-celebration/
Resources for on-line activities.  Links are listed below.
Pacific Science Center
Curiosity at Home -Ignite your curiosity at home with streaming live science shows, hands-on STEM activities, tutorials, interviews, and more. These educational activities and resources are for all ages of learners and are meant to inspire and excite all people about science. https://www.pacificsciencecenter.org/events-programs/curiosity-at-home/
Tinkergarten
Tinkergarten At Home is now offering educational, DIY activities in Spanish! Each week brings a new activity and a live online class, along with additional age-based suggestions to help inspire kids to play independently (an added bonus for working parents). All you'll need is what you'll already have on hand. Sign up here to get activities delivered straight to your inbox and to participate in our live online classes: tinkergarten.com/athome
Spanish:
Tinkergarten En Casa ahora ofrece actividades educativas en Español! Cada semana trae una nueva actividad y una clase en vivo en la red, junto con sugerencias adicionales basadas en la edad para ayudar a inspirar a los niños a jugar de forma independiente (una ventaja adicional para los padres que trabajan). Todo lo que necesitará es lo que ya tendrás a la mano. Regístrese aquí para recibir actividades directamente a su correo electrónico y para participar en nuestras clases en vivo en la red: tinkergarten.com/athome
Metropolitan Ballet of Tacoma
Metropolitan Ballet of Tacoma is offering free classes on their facebook page. https://www.facebook.com/Metropolitan-Ballet-of-Tacoma-279936359125/?ref=search&__tn__=%2Cd%2CP-R&eid=ARAX9xXIpZdWUkGLB_WsfOGOoIxZC_cevxEvJVGOgB2sVFOo6zat37RT4P0JkcH7L_UA9y6mB980I254
JR NBA at Home
Check out some of the top Jr. NBA at Home basketball drills and exercises featuring NBA and WNBA players from this week. Jr. NBA at Home provides you with basketball drills and exercises that you can do on your own while at home to help you stay active and connected to the game in a healthy and safe way. Follow us @JrNBA on Instagram,Twitter and Facebook each day and to join the action by posting your own videos using #JrNBAatHome. https://jr.nba.com/
Snapology
Snapology is kicking off a STEAM club class on Monday, taught by a certified elementary teacher who's experience is with STEAM.
The classes are M-F 12p -1pm and the cost is $60 for the week. Kids needs access to a web cam (for Zoom meeting) and access to regular random LEGO. Registration link for the session starting this Monday is:
https://embed.snapology.com/licensee/100/events/72685

Click Here for K-5th Grade Youth Baseball Registration Form
Click Here for Pee-Wee T-Ball Ages 4 & 5 Years
Program Information
A magical night to remember: the 2020 Fircrest 'Under the Sea' Daddy Daughter Dance. Please enjoy some photo highlights.
Please join us in saying another BIG thank you to our 2020 Daddy Daughter Dance sponsors!
Their generous sponsorships helped create the extra special and magical event that was enjoyed by all. We are so thankful for you!
Berkshire Hathaway
Bliss Creamery
B.Well Fitness
Cutters Point Coffee
Fircrest Kiwanis
Magic in the Pacific NW
Nurture Therapy Services
Randall Family
Schoettler Family
Skateworld Tacoma
Westside Disposal