Fircrest Pool Update 6/11/19
The pool will open today from 3:30-6: 30 pm. The Wading Pool is open daily from 10 am to 8 pm and is reserved for Fircrest Residents 2 pm to 4 pm.
Pool Opening Postponed
The Fircrest Pool will not be opening as scheduled on May 25 due to ongoing maintenance and needed repairs. A large tear appeared late last season along the steps into the pool. That tear has been fixed, but as we continued to drain the pool down and prepare for the 2019 season, we noticed a 4 ft tear in the liner in the deep end. We have scheduled a repair for this week but are operating day to day due to the wet weather. Once the pool is filled with water, we will resume preparing the pool. As with any structure 57 years old, there could be other issues that arise as we start up the pumps, heaters, & filtration systems. The Parks & Recreation Department will be providing updates through the City's website and Facebook pages on the status of the pool.
UPDATE 5/31/2019
We finished filling the pool on Wednesday (5.29.19). After trying to start the pool we encountered a problem with the main electric circulation pump. After troubleshooting the problem most of the day Thursday, we narrowed the problem down to the electric pump. The pump consists of a three-stage electric motor. Our pool maintenance company diagnosed the problem as an internal failure in the motor. Unfortunately, this is a problem that can occur at any time and something that we would usually have time to fix before opening the pool. But with the various repairs that have already impacted our schedule, this will again push the opening date back. We will know more by Monday morning when we have a better understanding of how extensive the repair will be.
UPDATE 6/5/2019
The main Circulation Pump has been repaired and installed, and the pool is now circulating.
We plan to begin pumping in the sanitation and PH chemicals on Wednesday.
Our pool maintenance company will service and start up the large pool boiler on Thursday.
If everything goes as planned, the pool should take 2 days to heat up to 80+ degrees.
The Fircrest Lifeguard training will take place on Sunday.
We plan to open the pool early next week and will publish the opening as soon as we know the exact day.
The Wading Pool is now OPEN!
The Pool Party scheduled for June 1 is being rescheduled as the Summer Family SPLASH event. The Summer Family SPLASH which will feature an Aloha Pool Party, Kiwanis BBQ, and Movie in the Pool/Park will take place on August 10, 2019.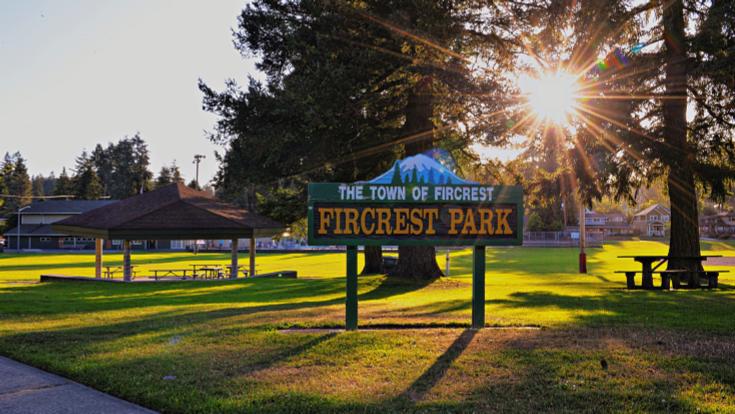 Parks & Recreation Mission
The Mission of the Department of Parks and Recreation is blending community needs and available resources to create and develop the highest quality recreational, athletic and social programs for the City of Fircrest.
Comprehensive Plan Ad Hoc Committee
Core Values:  People Respect Involvement Development Excellence