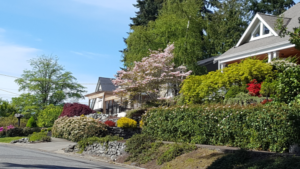 Through long-range planning and current project processing, the department works with residents and businesses to ensure that the type, scale, character and location of development – both private and public – reflects the community's vision and values.
These decision are guided by the City's Comprehensive Plan which outlines how the City will meet the community needs for land, public facilities and infrastructure based upon a 20 year forecast of housing and job growth and the Land Development (Zoning) Code which outlines the specific regulations, standards, and guidelines for development.
Building construction is regulated by the Washington State Building Codes which are updated and adopted every three years. By establishing and enforcing minimum standards for structural stability, adequate entrances and exits, sufficient light and ventilation, energy efficiency and other aspects of construction, the building codes help ensure an acceptable level of health, life and safety protection.
In addition to processing planning and building permits, the department oversees business licenses, supports the Planning Commission, inspects nuisance violations, and maintains the City's Geographic Information System (maps and data).