FirCRUST PIE BAKE-OFF
July 16, 2022 @ 8:00 am

-

6:00 pm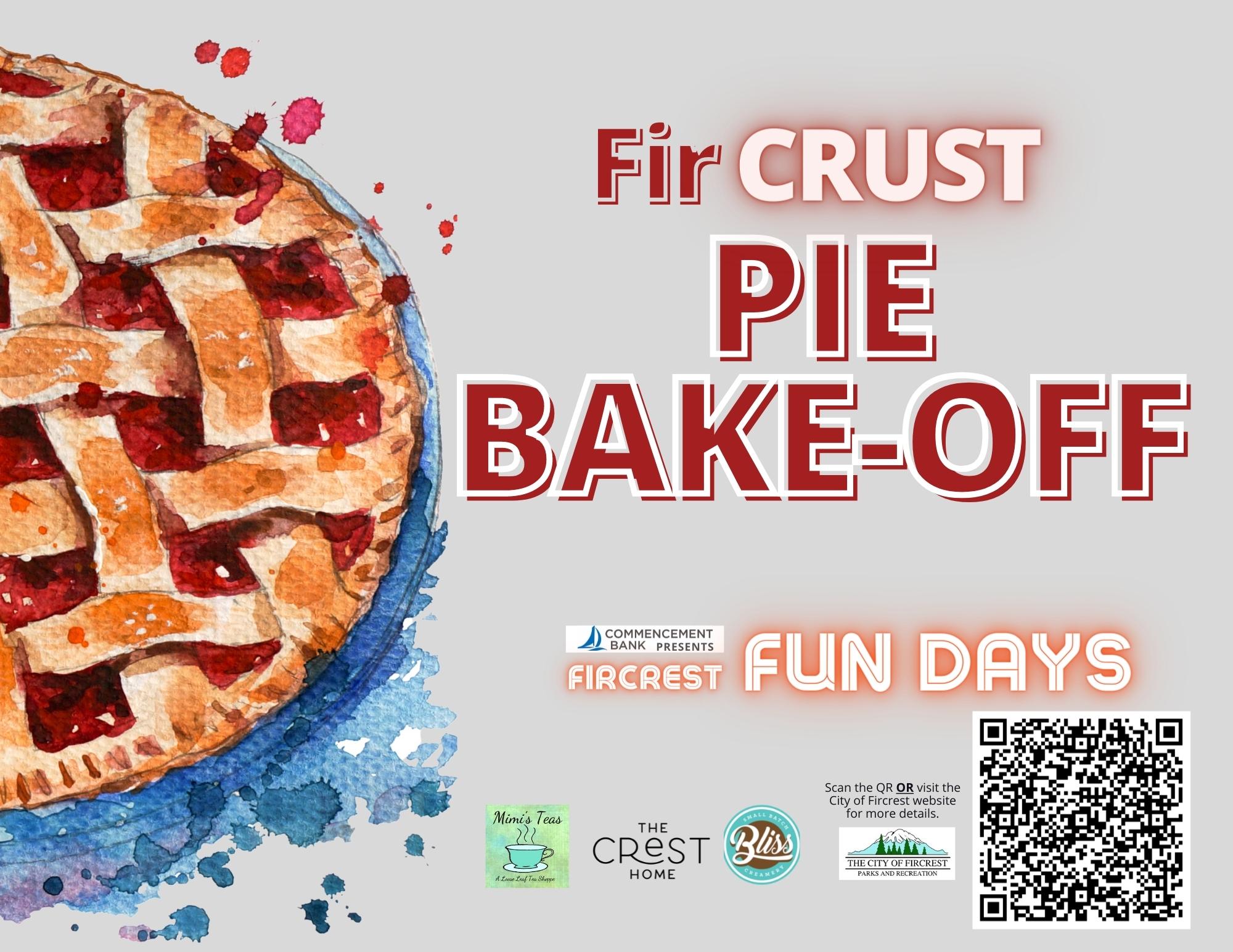 2nd Annual FirCRUST PIE BAKE-OFF
Do you like to bake pies? Do you have what it takes to bring home the Blue Ribbon? Or maybe even the Championship Title? Enter the 2nd Annual FirCRUST Pie Bake-Off and find out! Our Team of "Celebrity" judges are excited to sample and judge your speciality pie. Prizes and bragging rights included!
Sign up today! There's NO registration fee.
DATE:                   Saturday, July 16, 2022
LOCATION:           Fircrest Community Center
TIME:
8:00 – 9:30 am      Deliver your pie
Location: Fircrest Community Center Multi-Purpose Room. Pies delivered after 9:30 am will not be accepted.
11:00 am               Judging
12:00 noon             Award Presentation
6:00 pm                 Pick-up pies / pie plates
DEADLINE TO REGISTER: Thursday, July 14th at 5:00 pm
OFFICIAL RULES:
Pies entered in the contest may not contain raw or uncooked eggs
No professional bakers permitted
Pies must be 8-10" and home-made
Categories for pie judging will be determined the day of the event based on which pies are available for judging.  Possible 8 Categories (but not limited to): Apple, Berry, Blackberry or Marion Berry, Peach, Nut, Meringue, Cherry, Vegan, GF, etc.
Please place baker's name on bottom of your pie plate
8 Blue ribbons will be awarded, one per category AND one over-all Grand Champion ribbon
All winners will be announced at NOON at the Community Center Multi-Purpose Room. Please join us! (not required)
Winning pies will be displayed in the Multi-Purpose Room by the windows for viewing from the outside until Saturday at 6 pm
A list of award winners will be posted on the Fircrest FUN DAYS Facebook page
Names of the bakers will be revealed only after the judging process has concluded
JUDGING CRITERIA:
1) Over-all appearance
2) Texture and taste of crust and/or topping
3) Taste and consistency of the filling
Complete this on-line registration form OR deliver / mail a printed copy of the registration form to: Fircrest Community Center, 555 Contra Costa Ave, Fircrest WA 98466. No cost to enter.
ENTRY DEADLINE: Thursday, July 14 at 5 pm
Please include a copy of this registration form or your name, number and email address when submitting your pie on Saturday, July 16th.
No Entry Fee
Here's what you can expect at the 2022 Fircrest FUN DAYS!
Fircrest FUN DAYS is back and it's going to be bigger & better than ever before!  All the Fircrest FUN happens on July 15th and 16th at Fircrest Park.
On Friday evening, we are excited to introduce live music and dance by Island Breeze. Island Breeze Entertainment is a vibrant and enchanting show featuring live music and dance from the Pacific Islands! This phenomenal performance includes a troop of over 40 cast members with 12 costume changes. Hula Dancers, Ukulele Players, Steel Pan Drummers and Island Style Musicians will make a performance you'll remember. The evening will also feature Island games, crafts and food available for purchase.
On Saturday, July 16th, Fun Days will feature stages with live entertainment; bands; vendor booths; food trucks; beer garden; FirCRUST Pie Bake-off; Watermelon Eating Contest; train ride around the park; games; yoga in the park; face painting; kid zone; demonstrations and more. We are also excited to present the Kiwanis FURcrest Pet Parade and the 4th Annual Furry 4K Pet Walk. The event will conclude with a spectacular firework show on Saturday evening. All Fircrest events are family-friendly and community oriented.
QUESTIONS? Please contact Judy at jschmidtke@cityoffircrest.net
Just another FUN way to celebrate Fircrest FUN DAYS! Come join the FUN!
Special thanks to our generous sponsors: The Crest Home Store, BLISS Creamery, Classy Chassis and Mimi's Tea.