Scarecrows & Skeletons of Fircrest Display Contest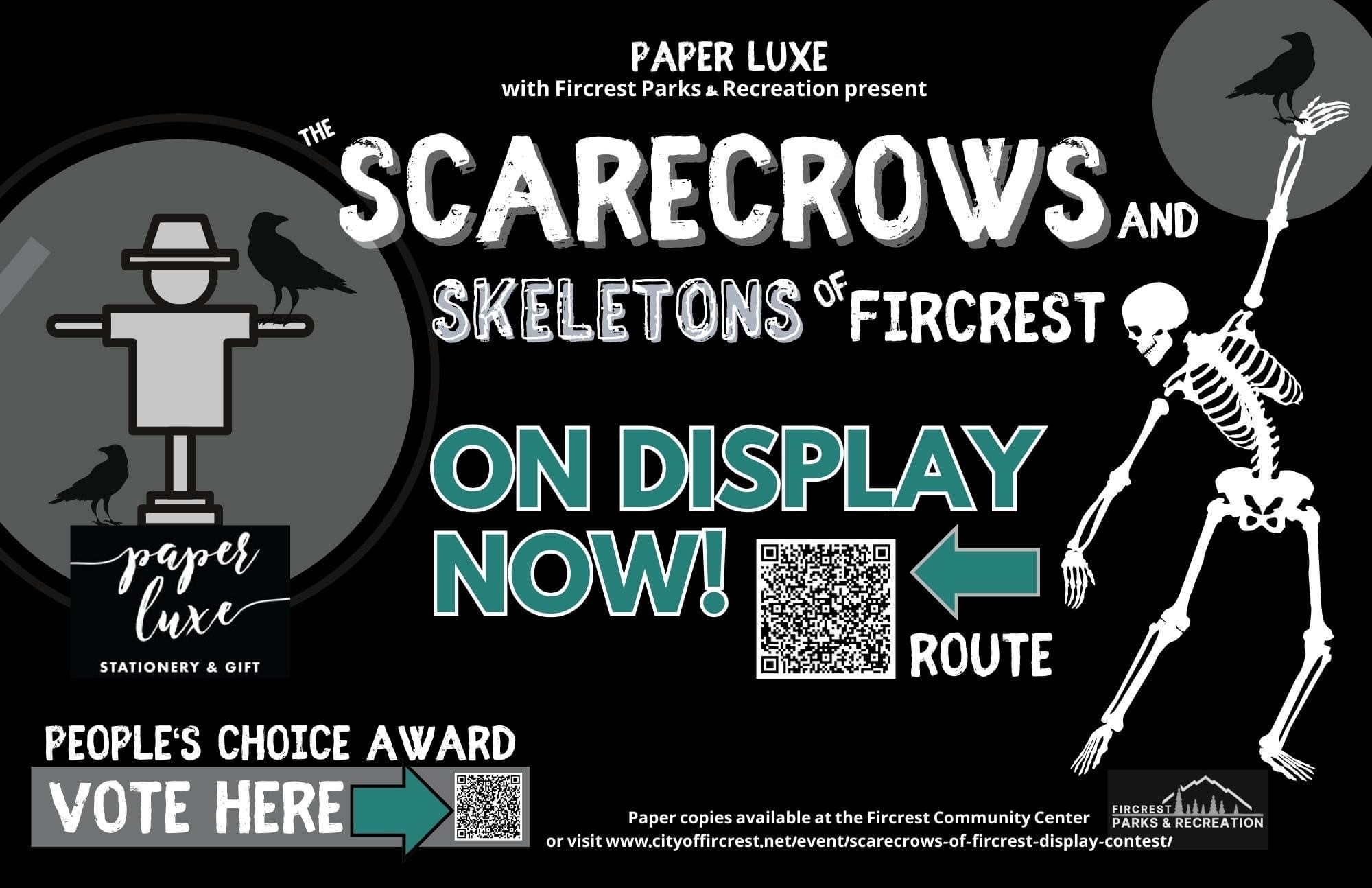 The SCARECROWS & SKELETONS of FIRCREST Display Contest
The days are getting shorter and the crows are gathering. This means that it's time to sign up for THE SCARECROWS of FIRCREST! AND this year there's a new twist … SKELETONS!
Voting is now open for the People's Choice Award!
The Scarecrows & Skeletons of Fircrest are up around town! For the first time ever, YOU will get to vote for your favorite display! Follow the map to check out all the entries.
Once you determine your favorite, click on the link or scan the QR code to vote for the entry you love the most!*
📍🗺️MAPS and QR code will be available on Friday, October 20th.📍
2023 ROUTE Scarecrows & Skeletons of Fircrest Display Contest (jotform.com)
The steps:
🗺️🧭Get the route (available on Facebook or City website on Friday, Oct . 20th)
🚙🚗Follow the route
🪧🪧Look for the Scarecrows & Skeletons of Fircrest yard sign
🔎👀Find your favorite
🔎#️⃣Look for the participant number located on the upper left corner of each sign.
🗳️Vote for your favorite display.
That's it!
✅☑️Every vote counts!
📢🏆🥇The winner will be announced on Monday, October 30th along with the judge's favorites. Prizes and bragging rights will be awarded!
Have fun and enjoy the creativity of our awesome community!
See you at the Park!
Thank you Paper Luxe for generously sponsoring this event!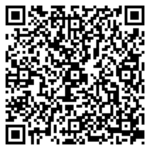 ---
We're excited to present the 2023 SCARECROWS & SKELETONS of FIRCREST PEOPLE'S CHOICE AWARD  entries! We have a huge array of creative displays this year! Don't forget to vote for your favorite!
Paper copies of the addresses are available at the Community Center. And here's the link to the google map in case you like to keep it on your smart phone!
https://www.google.com/maps/d/edit…
Thank you Paper Luxe for your generous sponsorship!
Thank you Salomé Frévol for all your excellent work creating the map and route for us! Appreciate you!
Enjoy!
---
REGISTRATION HAS CLOSED for the 2023 SCARECROWS and SKELETONS of FIRCREST Display Contest. It's time to build the scarecrows and decorate for the fall. AND this year, creative skeleton displays are now eligible to join in the contest!
Your display can be whimsical, happy AND/OR scary! It can include a single creative scarecrow, skeleton OR create a huge display with both! It's up to you!
This is NOT your ordinary scarecrow building competition. Your goal is to create the most creative and unique scarecrow / skeleton in Fircrest. And the challenge is on! *
The rules are simple
You have your choice of creating a creative scarecrow, skeleton OR both.
Be creative. (please see examples below)
Think outside the box.
You can create one scarecrow / skeleton or a big display of both … it's up to you!
Have FUN.
Keep it clean (PG rated for our young community members).
Your display must be visible from the street.
AND finally … the display must be made by you (not purchased, rented or borrowed). Of course the basic skeleton can be purchased! 😉
Entry Fee: FREE! There is NO cost to enter the contest.
Space is limited. Register now before all the spots are filled.
IMPORTANT DATES:
Timeline:
Oct. 18: Homes are decorated and ready for viewing
Oct. 18: Receive your participant yard sign
Oct. 19: List of registered homes for self-guided tours are available
Oct. 25-26: Judging!
Oct. 30: Winners announced
An electronic list of registered homes, for self-guided tours, will be available on the City of Fircrest Website and City Facebook event page. Paper copies will be available at the Fircrest Community Center.
A HUGE THANK YOU to The PAPER LUXE for their generous sponsorship of this event!
Please contact Judy Schmidtke, Community Events Specialist, at jschmidtke@cityofficrest.net for more information.
*Must be a Fircrest resident to enter the contests. Only one prize per family.