The 'Scarecrows of Fircrest' Display Contest
October 1, 2020

-

October 31, 2020

|

Free

The Scarecrows of Fircrest
SCARECROWS OF FIRCREST Display Contest
Fircrest! Way to celebrate the fall! Thanks for all the creative and fun entries for the First Annual Scarecrows of Fircrest Display Contest! It was so hard to choose from all the fantastic displays! We are excited to present the winners of the 2020 Scarecrows of Fircrest Display Contest.
CONGRATULATIONS to the award winning entries:
Whimsical Award: 344 Contra Costa (Charlie Brown)
WOW Factor Award: 202 Ramsdell (Pirates!)
Sponsors Choice Award: 437 Farallone (Wizard of Oz)
Police Chief's Choice Award: 344 Golden Gate (Cats)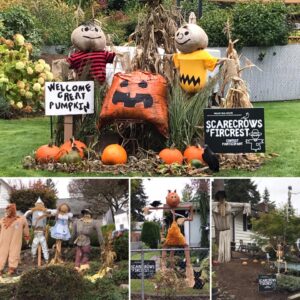 And here's a shout-out to our Honorable Mentions. We have a fun and creative community!
1224 Princeton (fire pit)
313 Yale (pumpkin lady)
504 Summit (aliens)
1025 Buena Vista (haunted trails)
520 Ramsdell (Helena of Ramsdell)
313 Farallone (giant twig arms)
Reflection Salon
Fircrest Golf Club
And thanks again to our generous sponsor Mosaic Real Estate for helping to make this event happen!
Way to go Fircrest! What a great turnout for the first annual Scarecrows of Fircrest Display Contest! We have 52 households / businesses participating.  We are excited to present the official touring guide.  The address list follows the arrows on the street map. You can drive the entire route at once OR enjoy a walking tour one area at a time. This is a nice way to enjoy a fall day AND be able to see all the great details. It's up to you! Get ready to be impressed!
Printed copies will be available at Mimi's Tea, Espresso Yourself and Fircrest Pharmacy on Wednesday, October 21st.
The Scarecrows of Fircrest Display Contest
Fall is almost here and the crows are amassing! It's time to build the scarecrows and decorate for the fall.
This is NOT your ordinary scarecrow building competition. Your goal is to create the most creative and unique 'scarecrow' in Fircrest. And the challenge is on!
The rules are simple
1. Be creative.
2. Think outside the box.
3. One scarecrow or a big display … it's up to you!
4. Have FUN.
5. Keep it clean (PG rated for our young community members).
6. Your display must be visible from the street.
7. AND finally …. must be hand made (not purchased, rented or borrowed).
Entry Fee: FREE! There is NO cost to enter the contest.
To participate, submit this registration form and have your scarecrow on display by the required time.
Here's how it works.
1. Submit the electronic registration form by October 14th. https://form.jotform.com/FircrestParksandRecreation/2020-scarecrows-of-fircrest-display
2. Each home participating in the Scarecrows of Fircrest will receive a numbered yard sign.
3. The yard sign must be displayed in a visible location in your yard.
3. On October 21st, our team of judges will travel to each registered home for judging.
4. Prizes and bragging rights will be announced on October 23rd.
The list of registered homes, for self-guided tours, will be available at local businesses and the Public Safety Building after registration closes.
Each registered participant will receive a commemorative Scarecrows of Fircrest collectors token (first 85 registrants). You will also be entered into a weekly drawing for fun prizes.
* Must be a Fircrest resident to participate. Only one prize per family.
Have we mentioned the awesome prizes in store for the Scarecrows of Fircrest Display Contest winners? FOUR display entries will each win a $50 gift card to THE CREST home store (right between Paper Luxe and Curious Bear) And this doesn't even include the weekly drawings beginning the first week of October.
It's time you signed up! Just follow the link below.
Please contact Judy Schmidtke, Community Events Specialist, at jschmidtke@cityofficrest.net for more information.
Related Events