Volunteer at Whittier Park
September 2 @ 9:00 am

-

12:00 pm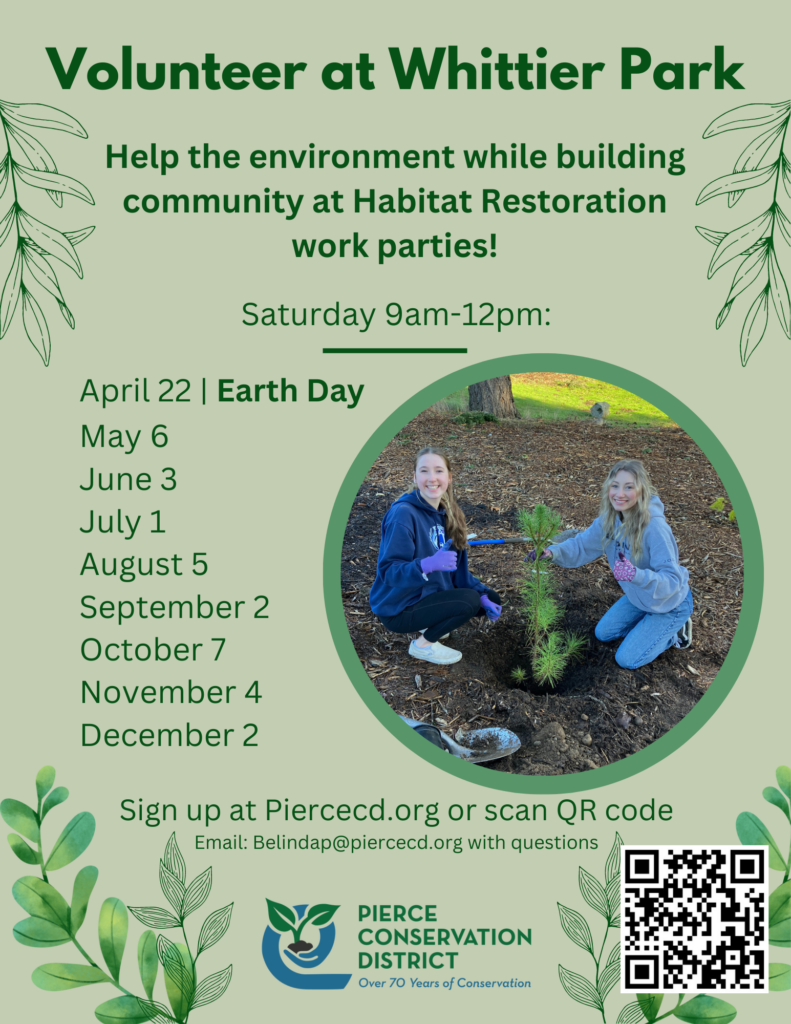 Volunteer at Whittier Park
Help the environment while building community at Habitat Restoration work parties!
Work Parties are on Saturdays from 9AM-12PM
Sign up at Piercecd.org, scan the flyer's QR code, or click on the links below:
April 22nd | Earth Day – Calendar – RSVP
September 2nd – Calendar – RSVP
November 4th – Calendar – RSVP (links coming soon)
December 2nd – Calendar – RSVP
Activities include caring for existing plantings, mulching and removing invasive species such as Himalayan blackberry and Canadian thistle This work supports water quality, our local wildlife, and pollinators. Exact meeting location will be provided after signing up.
What will volunteers be doing at the event?
While the exact tasks at hand vary, our projects focus on improving the open spaces, forests, and parks in our local cities.  Healthy ecosystems and thriving forests are vital to our community because they absorb and naturally filter rain water, produce clean oxygen, provide living spaces for wildlife, and create a place for people to connect with the outdoors.
In order to create healthy forests and riparian zones, the work can include:
Removing invasive species of plants

Canadian Thistle
Himalayan Blackberry

Caring for existing and previous plantings
For your safety and comfort please bring:
Clothing that can get dirty
Long pants and sleeves
Sturdy shoes (closed toed shoes required, no sandals or flats)
Rain gear and warm layers (the event will happen rain or shine)
Full water bottle!
Youth Policy
Youth under the age of 14 must be accompanied by a parent or guardian.
What is a Conservation District?
Across the United States, nearly 3,000 Conservation Districts—almost one in every county—are helping local people to conserve land, water, forests, wildlife and related natural resources. Conservation Districts are non-regulatory, we're here to help you implement best practices for conserving local natural resources, not to fine you for not using best practices.
Known in various parts of the country as "soil and water conservation districts," "resource conservation districts," "natural resource districts," "land conservation committees" and similar names, we share a single mission: to coordinate assistance from all available sources—public and private, local, state and federal—in an effort to develop locally-driven solutions to natural resource concerns.