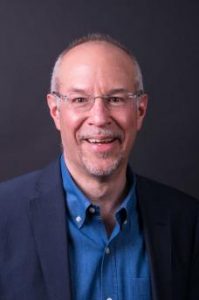 Marc and his husband, Paul, have loved living in Fircrest since 2012.
With degrees in classroom education and educational administration from Pacific Lutheran University, Marc began his career as a professional educator and school administrator at the secondary level for 15 years. For the past 20 years, Marc has served as Principal and Senior Consultant for The Enrichment Group, a consulting team serving Christian churches and faith-based nonprofits in fund development efforts. Marc has also served on several nonprofit boards including 10 years with Sound Outreach in Tacoma, a non-profit agency that serves economically disadvantaged, disabled, and homeless individuals.
Marc appreciates the unique identity of Fircrest, and values the concise size, sense of connection and community care evident here. The local ownership of small businesses, the prominence of a town center, the many parks and opportunities for recreation, and the ability to safely traverse neighborhood streets are all precious assets.
Marc walks daily throughout Fircrest, and delights in striking up conversations with residents to hear their stories, and learn what they love about our city and what concerns they have.
Marc and his husband are active participants at Bethany Presbyterian Church in Tacoma.