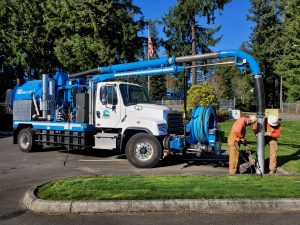 There are approximately thirty-three miles of sewer mains and seven sewer lift stations.  Sewer is pumped to the City of Tacoma for treatment.
There are no 2020 Capital Projects at this time.  Please check back for updates.
Do I need a Permit?
You DO NOT need a permit IF you are repairing or replacing your sewer line and you are NOT going to be cutting into the street or Right-of-Way.
If you are going to be cutting into the street you will need a STREET WORK PERMIT
If you are going to be cutting into the Right-of-Way you will need a RIGHT-OF-WAY ENCROACHMENT PERMIT