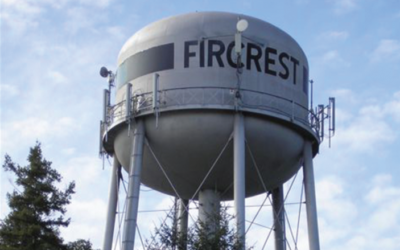 Water Quality / Treatment
The City of Fircrest water is fluorinated and chlorinated.
Each June we provide our Annual Water Quality Report to residents of the city
 Meter Readings
The meter reader reads the meters every even month (Feb, April, June, Aug, Oct & Dec) during the first 8 business days.
Water Consumption High?
High Tank Site Painting Project
This project is to coat the exterior of both tanks at the High Tank Site. This helps preserve the tanks and will also provide a new logo on the high tank. The project has been awarded to Long Painting Company. The painting will take place mid to late summer to make sure the weather cooperates with us. This project is being funded out of the REET funds.
Water main replacement on 400 block of Summit Ave.
Water mains that are undersized and old will be replaced along this block. This will be done by our public works crews and is schedule to be done in the summer months. This is funded by the water capital fund.
Do I need a Permit?
Installing a Backflow Device?
You will need a BACKFLOW PERMIT.
Please NOTE:
You will need to purchase your backflow device before applying as you will need the make and serial number of the device to complete the permit application.
Every Backflow Assembly MUST be tested ANNUALLY by a Certified Backflow Assembly Tester with a copy of the annual test to be filed with the City of Fircrest each year.