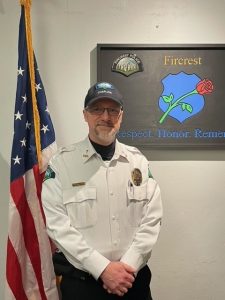 I am Jeffrey Ries (I go by either Jeff or Jeffrey), and I am privileged to serve as Chaplain for your police department in Fircrest. I am also a Lutheran pastor, serving Zion Lutheran Church in Tacoma.
This year my wife, Rhonda, and I will celebrate 25 years of marriage. We have 3 sons, ages 20, 14, and 12 years old, and a German Shepherd named Ruby. In my off time, you will often find me riding my bicycle, participating in shooting sports, or enjoying the outdoors in some other way. I also enjoy reading and playing card games like Pinochle or Cribbage. My other favorite pastime is watching both college and professional sports. My family and I will occasionally take in a game at UPS or Cheyney Stadium.
My undergraduate degree is from Oregon State University, so those of you who are Husky or Cougar fans can join me in rooting against the Ducks. I grew up in the Portland OR area but most of my family originally came from Minnesota. Thus, I was born and raised to root for the Twins and the Vikings (though, I am happy to cheer on the Mariners and the Seahawks). Having spent several years in the St. Louis area, I am also a fan of the Cardinals.
I have been serving as Chaplain for Fircrest Police for about 18 months. I have served as chaplain for various first responder agencies in both Missouri and here in the Tacoma area for the last 15 years. I love serving the Fircrest community and our police department. I enjoy the tight-knit and active community here, and the good relationship between the community and police.
Many ask, "What does a chaplain do?" While I can (and am always happy to) provide spiritual support, this is done only as requested by officers or community members. My primary purpose is to serve as a provider of support and resources to members of the community and members of the police department who may be struggling in the wake of a crisis, trauma, or other significant issues in life. I have hundreds of hours of training in this and continue to train regularly. When someone has experienced the death of a loved one, been the victim of a violent crime, or suffered any other kind of significant trauma, my role is to provide immediate support and care, and then connect them to resources for long-term support and care as needed. All members of your police department know how to reach me when I am needed.
I try to be at as many of Fircrest's community events as I can, and you will occasionally see me riding with one of your police officers. Please don't hesitate to stop me to say, "Hi!"