Officer Kevin Gollinger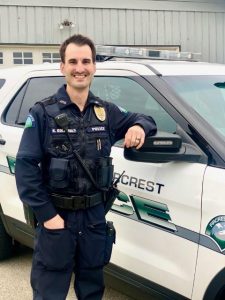 Hello, Fircrest – I am Officer Kevin Gollinger. I grew up in University Place and went to Curtis High School. After Curtis, I received my Bachelor's from Gonzaga University. In 2015, I was hired by the Aumsville Police Department in Oregon. In 2017, I had the opportunity to come back home and work for Fircrest. With the exception of a few years, I have lived in University Place or Fircrest for my entire life. I feel that growing up here has given me a great perspective on what is important to the residents of this community. It is always my ultimate goal to solve whatever problem anyone may be having that particular day and I will go out of my way to help anybody that needs assistance from the Fircrest Police Department. I enjoy chatting with everyone, so feel free to wave me down if you see me.
If you happen to see Officer Gollinger please introduce yourself and say, "hi"!