Sergeant Victor Celis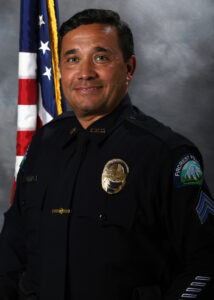 Hello, my name is Victor Celis and I am a proud member of your Fircrest Police Department.
Throughout my 27 years of law enforcement work, I have been fortunate enough to be able to work for a few different agencies. I began as a King County Sheriff Reserve Officer in 1993. I worked as a reserve until I was hired by the Des Moines Police Department full-time in 1997. In 2004 I decided to move to the Lakewood Police Department since they were just starting up their own police department and it was a great opportunity to get in on the ground floor.
After about 6 years I moved to the Ruston Police Department where I worked my way to the position of Chief of Police. I had known Chief Cheesman for a few years and so about 5 years ago I decided to leave Ruston and come to work here in Fircrest. I can say that I have truly found, "My place" and I fully plan to retire from this career as a member of the Fircrest Police Department. I am currently assigned as a Patrol Sergeant. I have previous assignments as a traffic officer, narcotics officer, and detective.
On a personal note. I am married to my wonderful wife Adrienne. I have two adult children who are busy living their hectic lives. My son works as an attorney for a law firm in New York City and my daughter is an elementary school teacher in King County. My daughter was married a couple of years ago and has blessed me with a wonderful granddaughter. In my time away from work I love to travel and go to new places with my wife. We like to spend as much time as possible on the beach or by a pool somewhere.
When we aren't together my favorite pastime is golf. I play golf as much as possible, as long as it doesn't get me into trouble.
I am extremely happy to be part of the Fircrest community and love to drive around while on patrol and meet and talk with the residents of our community. I enjoy getting away from the patrol car and talking with kids at the park or adults at local businesses. Please make sure to reach out and say hi when we see each other out and about.
If you happen to see Sergeant Celis please introduce yourself and say, "hi"!