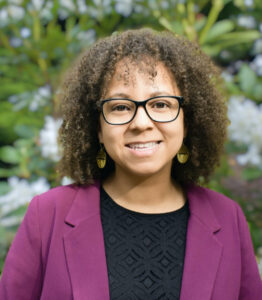 Nikki Bufford is serving her first term on Fircrest City Council. She currently works in the utility space as an Energy Risk Management Lead and brings to Council over 14 years of success in finance roles spanning both the public and private sectors.
After completing dual undergraduate degrees in finance and economics from Central Washington University, Nikki has molded her career around a keen interest in compliance and continuous improvement. She has championed many operational and change management initiatives to develop and implement new processes and efficiencies while improving collaboration and cross-departmental communications.
Nikki is committed to utilizing a forward-looking and inclusive approach to building connections with the community and fostering a sense of belonging. She is proud to call Fircrest home and is excited to work together with residents, City staff, and City Council Members to ensure that decisions are made with input and involvement from all community stakeholders.
If you're out for a walk you'll likely find Nikki near Thelma Gilmur Park. She and her husband Staley live in the south end of Fircrest with their dog Watson and feline roommates Jerry, Fuego, and Olivia. Nikki is the third of four sisters and grew up in University Place, where her parents still reside and extended family often gathers. In her downtime Nikki enjoys hiking, rock climbing, crafting, and exploring new activities.
Contact Nikki:
nbufford@cityoffircrest.net