---
Fircrest Community Yard Sale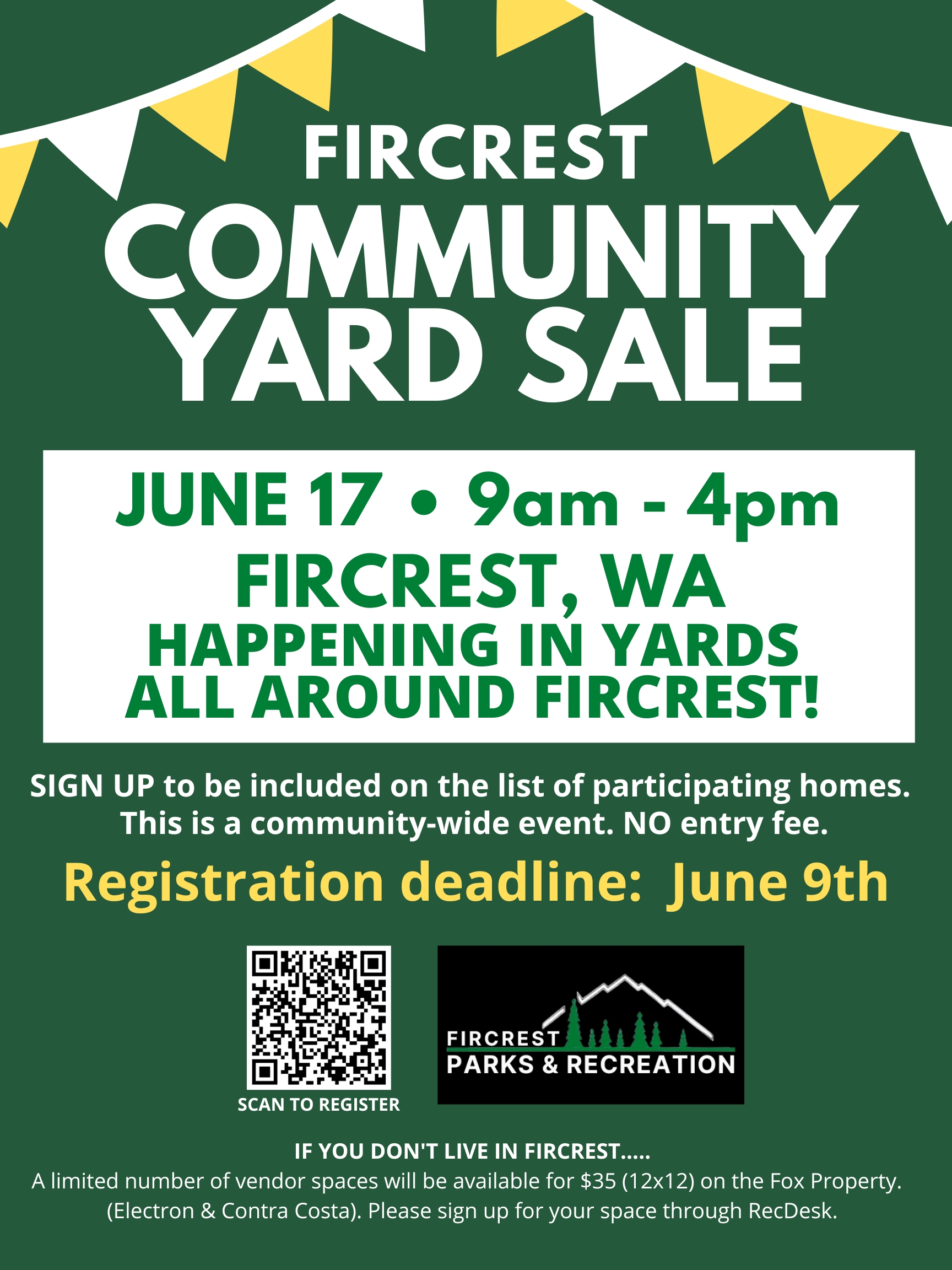 Presented by:
Fircrest Parks & Recreation
Saturday, June 17th
Registration Deadline: June 9th
Happening in yards all around Fircrest!
Clear out your clutter and make a few dollars in the process.
Fircrest Residents: – Sign Up Here
Sign up to be included on the list of participating homes.
This is a community-wide event. There is NO COST to register a sale at YOUR YARD.
We will add your address to the master list of residents hosting sales (we only include addresses, names will not be listed).
NON-Residents – Apply Here
A limited number of vendor spaces will be available for $35 (12×12) on the Fox Property at Electron and Contra Costa.
Signup will be through RecDesk. You will need an account to sign up.
Payment MUST be received before final approval.
Vendor is responsible to provide their own tables, chairs, and canopies.
More information will be updated on the Event Page:
2023 Fircrest Community Yard Sale – City of Fircrest
---
Fircrest Strawberry Festival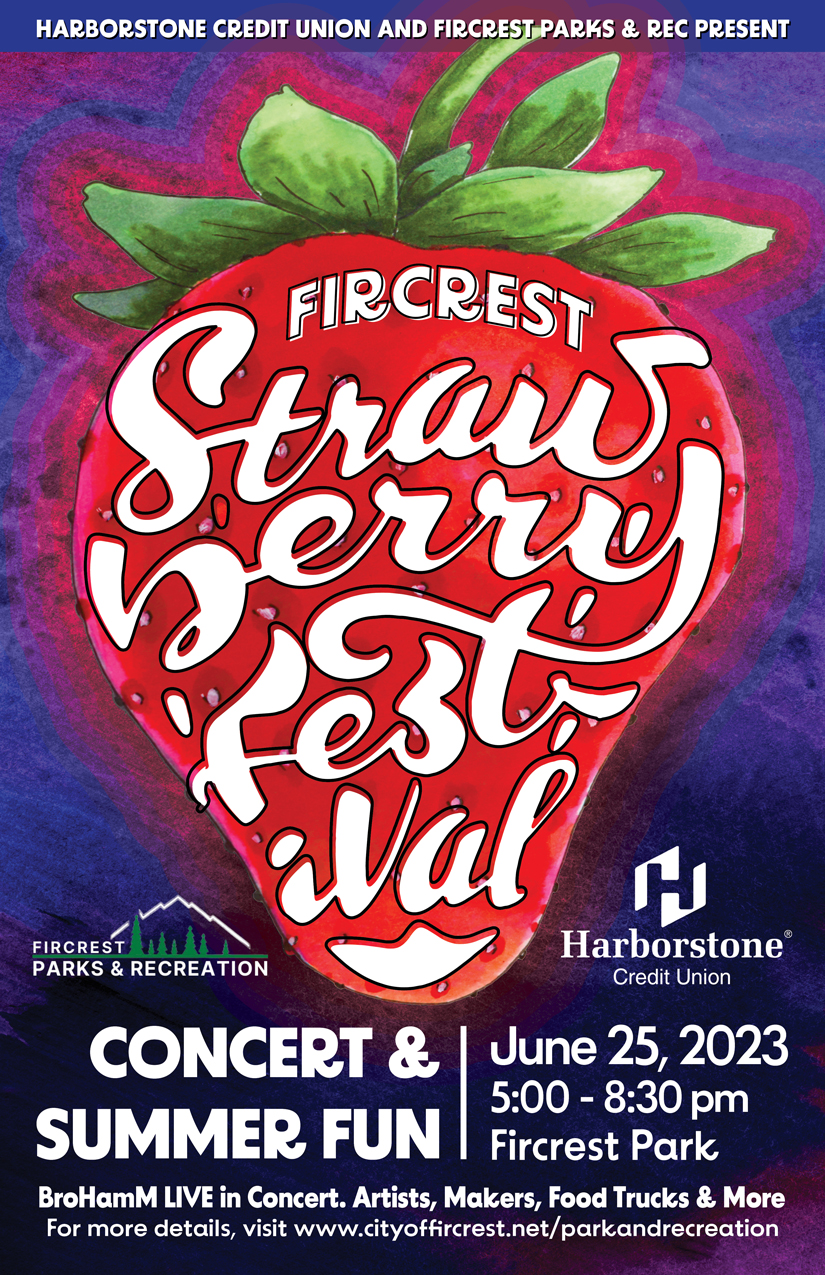 There's not much better than a fun summer evening in the sun! Come kickoff the summer event season at the Fircrest Strawberry Festival! All the Fircrest FUN happens on Sunday, June 25th from 5:00pm – 8:30pm.
Jam to the toe tappings tunes of BroHamM live in concert! We'll have Artists, Makers, Food Trucks and of course the famous Fircrest Kiwanis Strawberry shortcakes! A team from the Fircrest We Dig Community Garden will be on site with strawberry starts. There's even reliable rumors that the Strawberry Fairy will be fluttering around! You won't want to miss it!
Thank you Harborstone Credit Union for your generous sponsorship!
See you at the Park!
---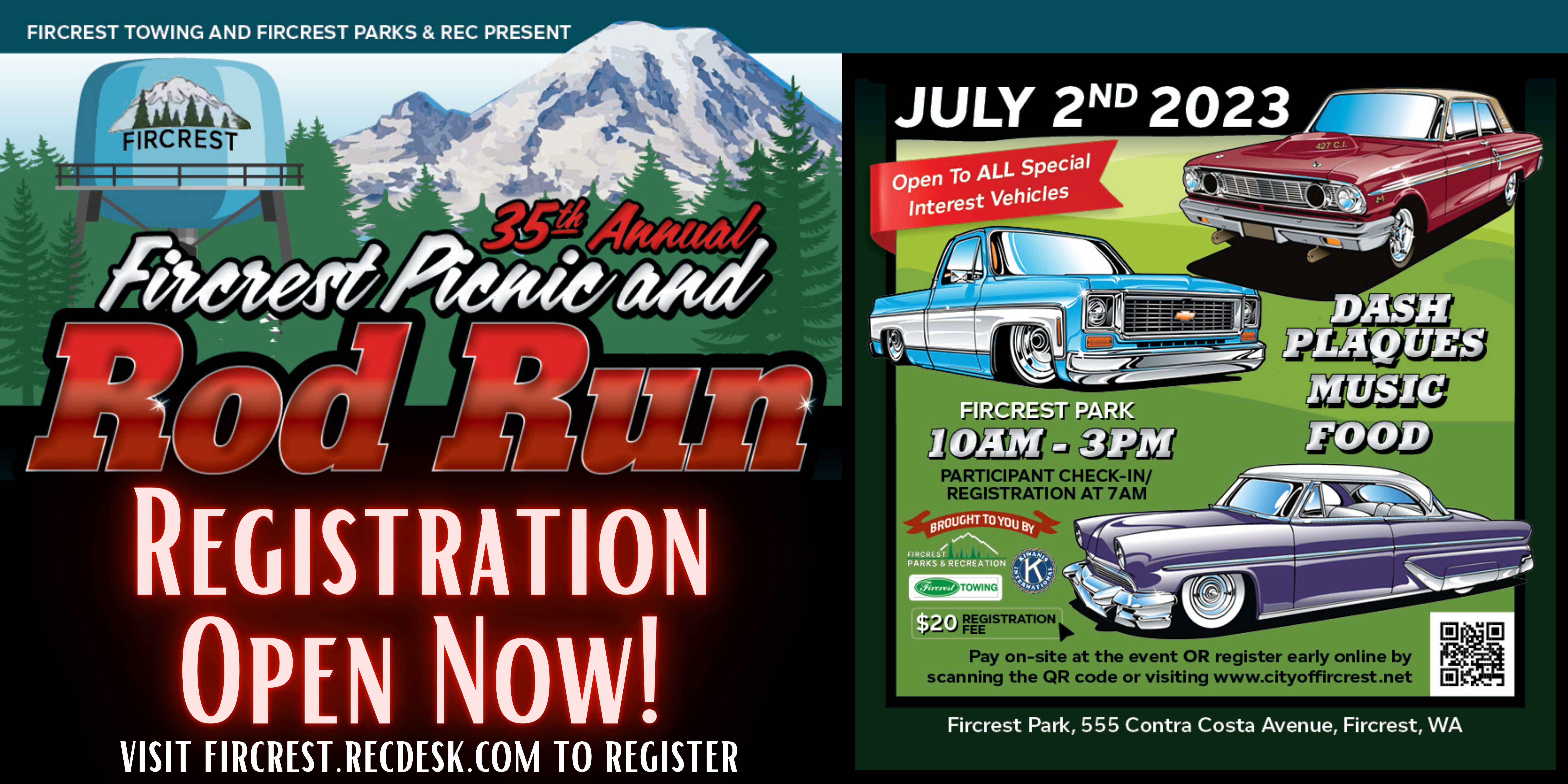 ---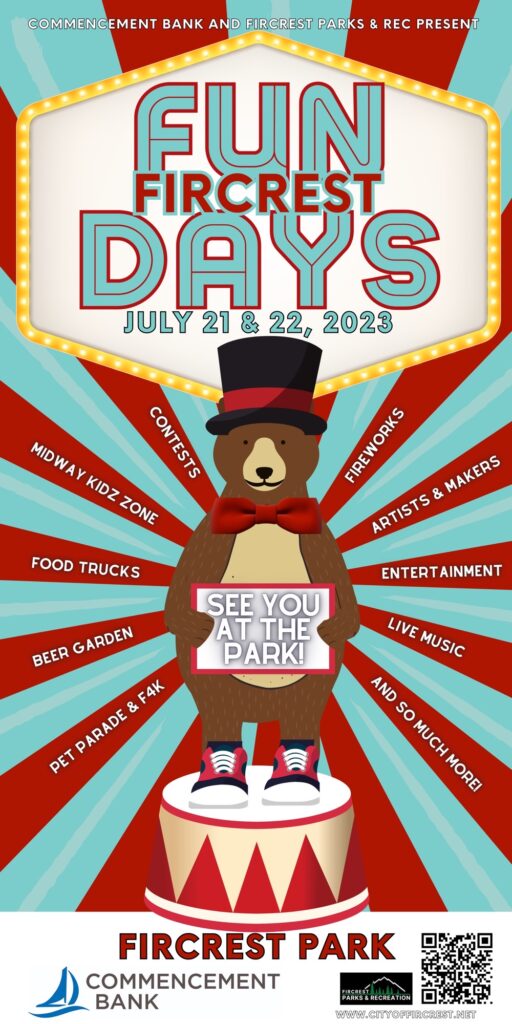 Commencement Bank and Fircrest Parks and Recreation Presents:
Fircrest FUN DAYS
July 21st & 22nd, 2023
The 2023 Friday Night Fun will feature live entertainment by Wings Aerial Acrobats. The performance will combine choreographed Aerial shows and Ambient Freestyle with hula hoop, acrobatic and juggling workshops to involve the audience. The two-hour experience will conclude with a Circus Dance Party with ribbons and hula hoops! The evening will also feature a Kids' Makers Market, games and food available for purchase.
On Saturday, FUN DAYS will continue with the BIG TOP / Circus theme. The day will feature live entertainment with bands; a magic show and roving performer. We'll have over artist and maker vendor booths; food trucks; a beer garden, games; yoga in the park; Midway zone and more. We'll bring back the 'FUR'crest Pet Parade and the 5th Annual Furry 4K Pet Walk. We'll also have a fir'CRUST' Pie Bake-off and Watermelon Eating Contest. This year we are also adding a Baking Competition for Kids! The Saturday festivities will conclude with a spectacular firework show that evening.
More event links and information coming soon!
---

---
Upcoming Events
Fircrest Parks & Rec Present the 2023
Upcoming Events
Community-wide Yard Sale – June 17
Strawberry Festival – June 25
Rod Run & Picnic – July 2
Fircrest FUN DAYS – July 21-22
Furry 4K & Pet Parade – July 22
Concert, Market, and Picnic in the Park – August 10 & August 24
Scarecrows of Fircrest – October 2023
Haunted Trails – October 19
Tree Lighting – December 3
Lights of Fircrest – December 2023

---
---
2022 Events
---