Detective Chris Roberts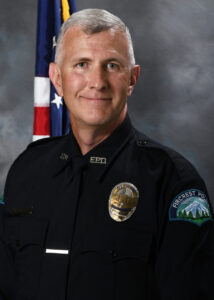 Becoming a police officer was a goal early on in my life. I was finally able to realize this goal by becoming a reserve police officer for the City of Long Beach Washington in 1995, and from that point on I was hooked. I accepted my first full time position with the City of Sand Point, AK in 1999, then moved to the City and Borough of Yakutat, AK in 2001. Due to a family medical emergency, in Florida, I left law enforcement for a few years, and got back into it in 2003 as a reserve police officer for the City of Normandy Park, WA, and then back to full time with the City of Seward, AK in 2004. I ended up in my final position, with the City of Fircrest, in 2006 and I have been proudly serving this community ever since.
When I am not patrolling the streets of Fircrest I enjoy spending time with my family, my wife and two amazing daughters. We love to travel, both inside and outside the United States, and my favorite trip so far was to Italy, France, and Spain on a cruise. During the summer, and occasionally the other months as well, I like to spend time on the waters of the Puget Sound boating and fishing. I will admit that my father-in-law, is the driving force behind that particular hobby, as he likes to share his passion with the family. One of my most favorite pastimes is playing the game of cornhole. I will set up my boards in hopes that I can troll for my neighbors to come out and toss some bags. I even play in a local cornhole league.
I also like to give back to the greater Pierce County community by volunteering my time through the South Hill Rotary, and donating to the Washington State Fair Foundation, which funds scholarships for students who are headed off to college. I also enjoy attending the Washington State fair, both the spring and fall fairs. If you see me out driving around please feel free to flag me down as I love to meet members of my "patrol community".
If you happen to see Detective Roberts please introduce yourself and say, "hi"!