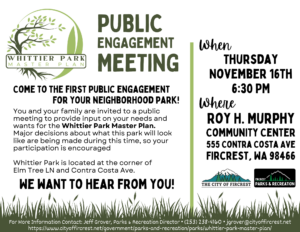 Come to the first public engagement for your neighborhood park!
You and your family are invited to a public meeting to provide input on your needs and wants for the Whittier Park Master Plan.
Major decisions about what this park will look like are being made during this time, so your participation is encouraged
Whittier Park is located at the corner of Elm Tree LN and Contra Costa Ave.
We want to hear from you!
When: Thursday, November 16th, 6:30 PM
Where: Roy H. Murphy Community Center – 555 Contra Costa Ave, Fircrest WA 98466
For more information contact:
Jeff Grover
Fircrest Parks & Recreation Director
(253) 238-4160
jgrover@cityoffircrest.net