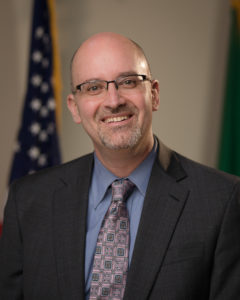 Hunter has served on the Fircrest City Council since 2012. His Council colleagues appointed him to the mayoral post for 2018-19 and again for 2020-21.
He has held several executive roles since 2015 at Metro Parks Tacoma, an independent agency providing parks, recreation, and zoological programs for the residents of Tacoma and beyond. He currently serves as interim Chief Administrative Officer, which involves overseeing human resources and government affairs.
Before joining the park district, Hunter served as director of communications for Pierce County. His responsibilities included leading the county's community outreach plans as a member of the U.S. Open Operating Committee as well as during the formation of South Sound 911, the emergency communications agency.
Hunter previously spent eight years as a news editor at The News Tribune in Tacoma, and he started his career as a reporter and editor with The Associated Press in Raleigh, N.C., Harrisburg, Penn., and Olympia, Wash.
He grew up in Raleigh and has a bachelor's degree in history from N.C. State University. He is a member of the Kiwanis Club of Fircrest, Rotary 8, the Society for Human Resource Management, Engaging Local Government Leaders, and Descendants of the Signers of the Declaration of Independence.
Hunter and his wife Kathleen have lived in Fircrest since 2007. His kids have attended Whittier Elementary, Evergreen Primary, Chambers Primary, Narrows View Intermediate, Drum Intermediate, Curtis Jr and Sr High schools, and Tacoma Community College.