Triple Impact Coaching
Dates: 5/14, 5/21, 5/28
Program Type: Youth Activities
Grades: K-8
Triple Impact Coaching is hosting developmental clinics for K-8th grade at the new Fircrest Community Center! This program is designed to help players who play recreationally as well as competitive players looking to grow their game. Groups will be broken up by age and skill level and will have the chance to work with some of the area's top trainers. Players will be challenged to get out of their comfort zone, regardless of skill level!
Fundamentals focused on: ball handling, basketball IQ, defensive positioning, footwork, passing and shooting.
Cost:  $30 / Clinic
Find the clinic you're looking for below!
Triple Impact Coaching
Dates: 5/18, 5/25, 6/01, & 6/08
Program Type: Youth ActivitiesGrades: K-5 & 5-8
Cost:  $85 / series
The kindergarten-5th Grade group is designed to introduce the game of basketball and help young players develop basic basketball skills and basketball movements. This class is ideal for new players or young players that are still learning the game. Our focus is on: teaching basic motor skills, introducing basic rules and teaching beginning basketball skills and strategy.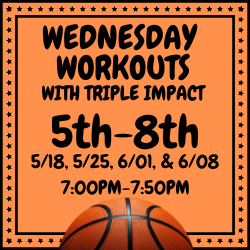 The 5th-8th grade program is designed to help intermediate to advanced players develop the basketball skills and strategies needed to play competitive youth basketball. This class is ideal for p
layers looking to be challenged or advanced players looking to add to their game. Our focus is on: competition, improving basketball IQ and playing situational games.
All Youth Baseball Registration is closed! Thank you for participating!