Officer Ed Garcia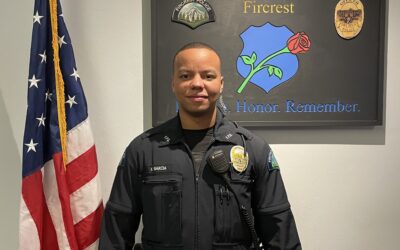 Hello, my name is Eduardo Garcia and I am the newest Officer for the Fircrest Police Department. I graduated from the academy in January of 2019 and began my Law Enforcement career with the Bothell Police Department. After leaving the Bothell PD, I was given the opportunity to serve the Fircrest Community as one of your officers in September of 2020.
A few things to know about me is first off, I am a huge fan of the New England Patriots. If you're still reading after that last sentence, I appreciate it. I was born in the Dominican Republic and grew up in the state of Massachusetts with a huge Hispanic family. After graduating high school I joined the United States Army where I spent 6 years and was stationed in South Korea (2012) and then Fort Lewis (2013). After landing in WA I met my wife Tuesdae. We just celebrated our 5th year of marriage this past May. On top of being a husband, I am also a dad to two boys, Abel and Zayn, who are three and one. Based on my last statement you can see that life is very busy and I wouldn't have it any other way.
In my off time, I am spending time with my family, watching sports, or going to the gym. I'm also a coffee connoisseur and need at least one a day to function properly. Thank you for taking time out of your day to learn a little about me. I am truly grateful for the opportunity to serve this community, and I promise to give you all my best each day.
If you happen to see Officer Garcia please introduce yourself and say, "hi"!