Get to know our Police Officers
The City of Fircrest is proud of our Police Force. We believe that developing relationships with our community members build trust, respect, and safer communities. Community Policing is at the heart of our organization and is emphasized at every level.
Over the next few months, we will be introducing you to the Fircrest Police Department Officers.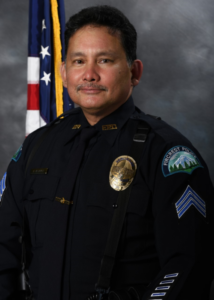 Aloha! My name is John Villamor and I am a Sergeant with the Fircrest Police Department. I was born and raised on the island of Oahu in Honolulu. My father was a tour guide, and my mom worked the front desk at a hotel in Waikiki. I am of Filipino decent and my ohana migrated to Hawaii in the early 1900's to work in the sugarcane plantations and coffee fields.
I started my law enforcement career as a Military Police Officer in the California Army National Guard. I returned home to Hawaii and worked at the Kauai Police Department as a Patrol Officer, Special Service Team member, and a Vice Narcotic Detective 1989 – 1995.  I relocated my young family to Pacific County where I went to work for the Long Beach Washington Police Department as a Patrol Officer and Evidence Custodian 1995 – 1997.  I was hired by the Fircrest Police Department in 1997. I started as a Patrol Officer, Detective, and have been a Sergeant with the Fircrest Police Department since 2004. Since my start in law enforcement, I have personally collected 2400 law enforcement patches in honor of all my brothers and sisters in blue.
My three children are grown now. My oldest is my daughter Mahealani who lives in Vancouver, My older son Kaulanakekoa lives here in Fircrest, and my other son Kalei lives in Portland. I love the PNW outdoors. I am an avid camper, and kayaker.  In the last eight years I have explored most lakes, and reservoirs in Washington. I have kayaked all over the South Sound, and many lakes in Oregon. I am now kayaking lakes in Idaho, Montana, and Wyoming.
I love working and serving the citizens of Fircrest! It's a great community and one that supports their police department. I've met many families; I've gotten to know a lot of the citizens personally.  I am committed to our community, and I can ensure you that you will always receive my very best service. I have created and experienced great memories here.
View Other Officer Spotlights