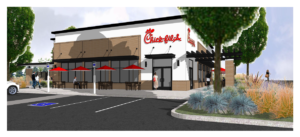 Permits have been issued. Demo is starting!
The Fircrest Planning Commission approved the land use applications to construct a new 6,545-square foot restaurant. Chick-fil-A has provided some overview shots and rendering of the proposed project. View Here! The City is now reviewing the demolition application, final land use drawings and construction plans.
The new building is to be constructed on parcels 0220116007 and 0220112063, the properties formally housing Charlie's Pub, Family Medical Arts, and the Ladenburg, McKasy, and Durkin building. Please see the links below for the detailed submissions.
Case Number: 18-06
Hearing date: Thursday, July 19, 2018 – Approved
Exhibits
1. Preliminary Resolution for Major Preliminary Site Plan Application
2. Land Use Application
3. Major Preliminary Site Plan Application
4. Applicant's Site Plan, Grading and Drainage Plan, Utilities Plan, Landscape Planting Plan, and Details, Irrigation Plan and details, Photometric Plan, Exterior Elevation Plans, and Color Elevations
5. Applicant's Responses to Fircrest Comments, April 3, 2018
6. Updated Traffic Impact Analysis, March 1, 2018
7. City of Tacoma Comment Letter, May 1, 2018
8. TENW Response to City of Tacoma Comments, May 16, 2018
9. SEPA Mitigated Determination of Nonsignificance
10. Applicant's Environmental Checklist
11. Comments from Department of Ecology, July 3, 2018
12. Citizen Comments
13. Limited Site Investigation Report (6518/20 19th St W), Terracon, April 26, 2017
14. Limited Site Investigation Report (6602 19th St W), Terracon, February 16, 2018
15. Geotechnical Report, Terracon, February 27, 2017
16. Geotechnical Addendum, Terracon, March 26, 2018
Exhibits:
1. Preliminary Resolution for Administrative Use Permit
2. Administrative Use Permit Application
3. Site Plan and Landscape Planting Plan
4. HME White Paper on Drive-Through Sound Levels, dated May 24, 2010
Exhibits:
1. Preliminary Resolution for Major Variance Application
2. Major Variance Application
3. Site Plan and Landscape Planting Plan
4. Applicant's Responses to Fircrest Comments, April 3, 2018