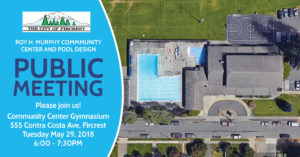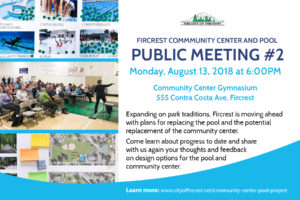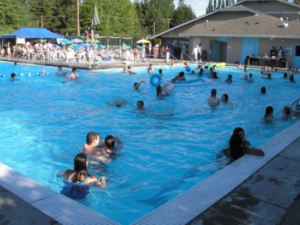 The City of Fircrest has initiated the process for the rebuild or renewal of the Roy H. Murphy Community Center and Pool.  Built in 1962, the existing pool has widespread recognition of issues; the cost of renovating the pool approaches the cost of a new pool that would fix these problems and provide more current amenities. The City obtained the services of ARC Architects in 2016 to perform a Pre Design Report, which recommended that the pool be replaced with a new pool with a new 50-year lifespan. A survey conducted in 2017 showed strong support for saving the pool and this input will be a part of the ongoing process of developing a long-term plan to address the future needs of the community center and the swimming pool.  Since the survey, the City has acquired the services of a bond underwriter and bond counsel for guidance on developing a sound financing structure to finance the project.  ARC Architects will continue to guide the City to select a preferred option, a financial plan to fund the project, and sufficient information to fully inform the public
Planning Documents
Survey Results
Financing Documents
Pool, Community Center, and Parks Steering Committee
The primary function of the Fircrest Pool, Community Center, and Parks Steering Committee is to guide the project scope and design, help make the business case for the projects, and help with public education.
The Steering Committee will monitor and review project status, as well as provide oversight of the deliverables. The Steering Committee provides a stabilizing influence so organizational concepts and directions are established and maintained with a visionary view. Members of the Steering Committee ensure business objectives are being adequately addressed and the projects remain under control. In practice these responsibilities are carried out by performing the following functions:
Monitoring and review of the projects at regular Steering Committee meetings;
Providing assistance to the projects when required;
Controlling project scope as emergent issues force changes to be considered, ensuring that scope aligns with the requirements of the City Council and any key stakeholder groups;
Resolving project conflicts and disputes, reconciling differences of opinion and approach; and
Presentation of project deliverables to the City Council to take official action.
Steering Committee Notes
Public Meetings
City Council Presentation
Fircrest Pool & Community Center: Online Survey 
Community Center Sketches
Operations Analysis
Community Center and Pool Pricing Set